5 min read
Life as an Intern at Qwilt
As I started the 3rd and final year of a computer science program, I found myself alongside my classmates in a search for student positions in the development field – in order to gain the prized real-life work experience and learn as much as I can about the software industry. The main dilemma was the work environment I would like to see myself in – am I aiming for big corporations, with a tradition of ramping-up interns and organized (or strict) tutoring methods, or do I prefer a small, fast-paced start-up company?

Yuval and the Development Team
Fortunately, I found Qwilt, and managed to enjoy the best of both worlds. With a dedicated team of veterans that holds vast experience both in start-up companies as well as large corporations like Cisco, I found an endless source of knowledge sitting at the desks right beside me. Responsible for video sites and protocols research, I familiarized myself with the hottest topics the internet community is dealing with today. Netflix, Youtube, live streaming, HLS – the buzzwords I hear and read every day translated into real technology that I am a part of.
As employee number 25 in then-early days of Qwilt, I joined at a critical and demanding stage, which meant being involved in a product development process as early as the first couple of weeks into my internship. The responsibilities seemed overwhelming at first, but motivated and pushed me forward, accelerating my learning process considerably. Within weeks my work impacted mission-critical global installations, while my friends at large-scale companies were still reading product manuals.
Another major advantage of my position was exposure and involvement with almost all aspects of the organization's work cycle. Some days were anything but routine, and this was especially true when handling urgent tasks. The 2012 Olympic Games were a great example, as Sales and PM passed along customer' requests to understand the impact and behavior of the events peaking video stream of live sporting events. A couple of days (and nights) later, I produced a comprehensive analysis of that traffic. Shortly after, our support of Olympic traffic was globally deployed in live installations. It was very fulfilling to help the company live it to its promise of a proactive adaptation process when facing new formats or protocols.
A year has passed, and I have since graduated. Qwilt's internship program has grown from a team of just one to a group of several talented students directly involved in the research and development projects. I am no longer getting the special "first intern" treatment, and my transition into a full-time employee is just around the corner. I look back on my internship period with tremendous satisfaction – not only for the knowledge and experience I've gained, but for the talented team of people I've met and still work with today.
Ready to take the next step?
We have a team of content delivery experts ready to answer your questions.

Related resources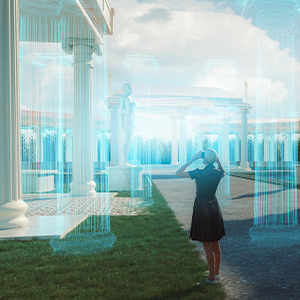 Blog
Bridging the many miles across immersive experiences
Event
Future of Video 2023
Blog
The CDN shake-up: What issues lie at the heart of a recent spate of acquisitions and exits?
Event
Capacity Europe 2023