5 min read
Opening the Edge Network as Qwilt's Chief Commercial Officer
Last month I joined the Qwilt leadership team as Chief Commercial Officer for Content Providers, and what better way to launch into my new role than by heading out to the NAB Show next week to meet with our content publisher and service provider partners! Having worked in the service provider and content delivery space for over two decades, and even having helped structure and deploy some of the first Tier 1 ISP in-network caches back in 2006, I'm incredibly excited to be part of the Qwilt journey helping accelerate the world's largest, highest-performing open edge network.
Momentum Begets Momentum
I like to think of Qwilt's content publisher and service provider model as a major flywheel for the edge industry. As we build in more service provider partners to our global community, we are enabling content providers to drive better Quality of Experience (QoE) for you and me as end users. The more service providers we bring on board, the faster it is to sign up content publishers. Conversely, the more content providers that join the party, the easier it is for Qwilt to attract additional service providers. We currently have over 150 service providers in all corners of the world utilizing our network, collectively serving over 1 billion unique subscribers, all the while, servicing apps and brands you most likely have on your home TV.
One of my main focuses as Qwilt's CCO is developing a procedure that helps further champion the messages around what we're doing, why our model is different, and the numerous benefits. And the implications of these benefits extend beyond the streaming and media industry to include an array of broader markets, such as gaming, IoT and a future in edge computing and application delivery. The impact of our unique model is not reserved for a handful of premium consumers – we're on a mission to ensure ANYONE worldwide with a pulse and an internet connection can receive the same high quality of experience.
Leveling Up Streaming Quality
I've been following Qwilt's journey for some time, and I was impressed to learn about the incredible value our solution brings to all new content publishers who come on board our carrier edge network through open APIs. Third party data from a live streamed event told us that our solution delivers:
55% improvement in buffering time
31% faster time-to-first-frame (TTFF)
13% improvement in ABR
9.4% improvement in error rate
With 100Tbps of carrier edge in-network capacity – and that's a number that's rapidly increasing – our solution enables content providers to deliver a superior Quality of Experience promise in locations where others have not.
Hear It For Yourself!
The Qwilt team is out in full force at NAB next week, exhibiting alongside our strategic partner Cisco in the West Hall (#W3724). If you're headed out to Las Vegas like I am, mark your calendar with these three speaker sessions where myself and some of my Qwilt colleagues will be sharing how the open edge is revolutionizing content delivery for all:
Qwilt is sponsoring the Streaming Summit (April 17 & 18), where streaming experts will cover important business and technology topics. Qwilt's VP Sales, Content Publishers, Gautier Demond, will have a fireside chat with streaming expert Dan Rayburn on Tuesday, April 18, at 4pm PT, discussing what's next for the future of the content delivery industry.
I'll be taking to the stage alongside Qwilt's SVP of Marketing, Lisa Aussieker, to discuss the important findings from our latest Live Streaming Survey report – catch us in the Connect Innovation Theater, West Hall, #W3421E on Sunday, April 16th at 1:30pm PT.
Lisa will also be speaking at the NAB Show Diversity Symposium to discuss 'Building a Better Media Business with D&I.'
I'm excited to continue the momentum, meet with partners, prospects, and customers alike as we work to enable the flywheel.
Ready to take the next step?
We have a team of content delivery experts ready to answer your questions.

Related resources
Blog
Raise the Quality-of-Experience Bar for Your End Users – Even When Serving Content in Your Most Challenging Markets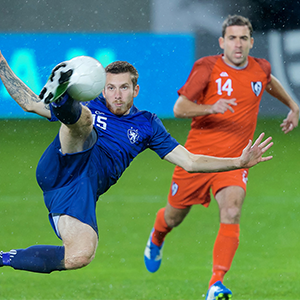 Report
Live Streaming Survey Results
White paper
Building a Better Architecture for Global Content Delivery
Event
NAB Show 2023