Qwilt and Altiostar Unite to Build Next Generation Mobile Network Infrastructure for Network Operators
Integration of solutions tackles booming demand for mobile video streaming created by live and on-demand OTT services
REDWOOD CITY, CA – February 26, 2015 – 4am PT / 12noon GMT – Qwilt, the leading provider of online video delivery and open caching solutions, today announced a technology and go-to-market partnership with Altiostar, a leader in NFV Cloud RAN (C-RAN) infrastructure for mobile operators. Combined, Qwilt Open Caching technology and Altiostar eNodeB technology will create a fully integrated C-RAN and open cache offering for mobile operators. Qwilt and Altiostar are engaged in joint go-to-market initiatives including joint marketing and selling of their integrated solution which is currently in trials.
By 2019, 4.6 billion smartphones users will drive 97 percent of all mobile data and 72 percent of this mobile traffic will be streamed video*. Driven predominantly by the mainstream adoption of over-the-top (OTT) services from popular video-on-demand services like Netflix, Hulu, Amazon and from live-streaming sources like ESPN, NBC and Twitch, this exponential growth in demand for content will push existing mobile networks to their limits. Today's mobile network operators face two unique challenges: first, they must optimise streaming video traffic so as to make efficient use of expensive RAN resources and, secondly, they must ensure Quality of Experience (QoE) for viewers who expect a high-quality, mobile viewing experience that rivals that of 'broadcast TV'. Now, through this pioneering partnership, Qwilt and Altiostar simultaneously resolve these two critical challenges – traditionally at odds with each other.
Altiostar's expertise in eNodeB technology and burgeoning leadership in C-RAN technology, an emerging category of mobile network infrastructure, combined with Qwilt Open Caching capability creates a best-in-class, next generation network infrastructure for mobile operators scrambling to support networks straining from video demand. Altiostar brings timely and much needed disruption to the mobile infrastructure market through its NFV Cloud RAN with Ethernet Fronthaul technology, creating virtual RAN infrastructure at a fraction of the cost of conventional systems. Qwilt, in turn, offers mobile operators access to open caching at the eNodeB level of the mobile network – unseen before in the industry. In combination, the solution dramatically reduces network latency and, pivotally, improves viewer QoE. Resulting in substantial increase in RAN efficiency and dramatic improvement in capital utilisation, hidden network capacity is unlocked. In addition, mobile operators can optimise their backhaul capacity spend, thereby tackling the next bottleneck in LTE networks.
"We're excited to bring together the mobile infrastructure expertise of Altiostar and the Open Caching leadership of Qwilt in this technology partnership" said Ash Dahod, President and CEO of Altiostar. "We found Qwilt during our extensive search for the right partner to meet the requirements for an Open Caching Solution inside our C-RAN architecture, and we were impressed with Qwilt's innovative approach, product performance and software-based solution. Qwilt's early commitment to NFV product architecture meant we could realise a technology integration quickly without the need to spend time on hardware development."
Qwilt's caching solution has been proven in more than 50 deployments worldwide. Combining the four elements of open caching – classification, storage, delivery and analytics – into one, integrated, 100 percent software suite that runs on commodity hardware, Qwilt's solution offers mobile infrastructure partners like Altiostar and mobile operators access to true Network Function Virtualisation (NFV) today.
"From our conversations with network operators we understand that they are looking for a solution capable of optimising network traffic and improving QoE to a growing ecosystem of IP-enabled, mobile devices," said Alon Maor, CEO and co-founder of Qwilt. "By uniting with leaders like Altiostar, we are offering mobile network providers a competitive solution that buoys the streaming video business case. Furthermore, by delivering an Open Caching solution deep in the mobile network, tightly integrated with the RAN, operator can rest assured that the consumer focused services they deliver stay at the forefront of an increasingly competitive market. Ultimately, with Altiostar, we're able to get a solution to market quickly with an agile, innovative and like-minded technology partner with extraordinary mobile infrastructure experience."
Executives from Qwilt and Altiostar will be available for meetings to discuss and demonstrate the capabilities of this new partnership at this year's Mobile World Congress in Barcelona, Hall 2, Stand 2EMR.J4.
*Cisco VNI Mobile Forecast Report – 2015
Connect with Qwilt
Read the blog: www.qwilt.com/blog
Converse on Twitter: @qwilt
Follow on LinkedIn: www.linkedin.com/company/qwilt
Visit on Facebook: www.facebook.com/Qwilt.Inc
About Altiostar
Altiostar is the mobile telecommunication industry's first provider of NFV C-RAN with Ethernet fronthaul, for software-intensive LTE radio access node (eNodeB). Altiostar is led by industry veterans who understand the mobile network operators' requirements for expanding their LTE networks quickly and efficiently, in the most feature-rich and cost-effective way. To learn more about Altiostar, please visit www.altiostar.com
About Qwilt
Qwilt addresses the impact of OTT video on operator networks with a unified, turnkey solution that combines open caching, video delivery and analytics technologies deployed at the subscriber edge. Qwilt QB-Series Video Fabric Controllers optimise delivery of streaming video content to relieve network traffic congestion for operators and deliver a higher quality viewing experience for their customers. A growing number of the world's leading cable, telecom and mobile service providers rely on Qwilt to optimize their networks to support growing consumer demand for online video content as a primary entertainment source. Founded in 2010 by industry veterans from Cisco and Juniper, Qwilt is backed by Accel Partners, Bessemer Venture Partners, Marker and Redpoint Ventures. Learn more at www.qwilt.com.
Qwilt Press Contact:
Kasia Murphy / Gemma White
Johnson King PR
Qwilt@johnsonking.co.uk
Qwilt is a trademark of Qwilt. All rights reserved. All other trademarks or trade names referenced here are the property of their respective owners.
Qwilt Media Contact
Qwilt Media Relations
media@qwilt.com
+1 (650) 249-6521
Related resources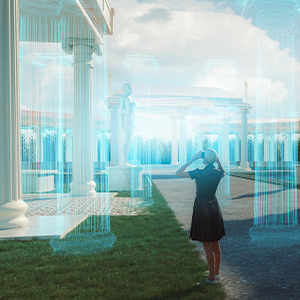 Blog
Bridging the many miles across immersive experiences
Event
Future of Video 2023
Blog
The CDN shake-up: What issues lie at the heart of a recent spate of acquisitions and exits?
Event
Capacity Europe 2023