Qwilt Chosen by Wananchi Group to Improve Streaming Video Quality of Experience for Subscribers in East Africa
Leading Kenyan ISP Deploys Open Caching Solution to Optimize Network for Increased Streaming Video Traffic
REDWOOD CITY, CA – August 4, 2016 – Qwilt, a leading provider of online video delivery and open video caching solutions, announced today that Wananchi, East Africa's leading home entertainment operator, has chosen Qwilt's award-winning open caching solution to optimize over-the-top (OTT) video delivery and improve Quality of Experience (QoE) for its subscribers. By deploying Qwilt's Open Cache solution, Wananchi was able to minimize the network strain resulting from the launch of major new streaming services in Kenya.
"At Wananchi, our goal is to revolutionize communications by delivering high-quality, cost-effective services for our customers," said Joao Machado, Chief Technical Officer at Wananchi Group. "As the number of OTT services in East Africa increases and the demand for content continues to grow exponentially, we chose Qwilt to help alleviate the strain on our networks. The results are outstanding  — we've seen average bit rate (ABR) improve by 300 percent and end users enjoy higher overall QoE. By implementing Qwilt's open caching solution, we were able to take control of content delivery — which means we are building a more intelligent, resilient and stable network."
By analyzing OTT video traffic in real-time, Qwilt's solution is able to cache and deliver popular video content locally at the subscriber edge. With network congestion continuing to plague operators worldwide, removing the need for duplicate streams from origin sites or content delivery networks (CDNs) is essential to controlling the cost of network infrastructure. Deploying a comprehensive open cache solution to manage OTT, VOD and live streaming video in operator networks results in better preparation for the future of online video and ultimately delivers a high quality consumer viewing experience.
"The rapid growth of streaming video services and increasing demand from subscribers are issues that are top of mind for the industry. We're at a critical juncture and network operators are looking for solutions to support their efforts and satisfy their subscribers during this time of evolution in streaming video," said Alon Maor, CEO and co-founder of Qwilt. "Qwilt's open caching solution eliminates redundant video streams across operator networks, speeding up delivery and minimizing traffic during peak viewing times. We're excited to work with Wananchi Group to provide consumers with the QoE they expect and deserve. With this deployment, we're able to extend the reach of our open caching solution and equip service providers to meet growing demand for OTT services in Africa."
Qwilt's open cache solution is engineered specifically for high performance and scalable video delivery in the demanding environment of high capacity operator networks. Qwilt's solution is delivered as a fully managed service to speed deployment and streamline ongoing operation. The broader operator organization—including network planning, engineering and operations teams—benefit from comprehensive media analytics, which offer insights into growth trends, content sources and consumer preferences. By relying on open caching for online video delivery at the network edge, operators can substantially reduce network capital and operational costs—a typical open cache deployment yields a return on investment (ROI) in less than 12 months.
To get in touch with Qwilt regarding its deployments in Africa, visit https://www.qwilt.com/contact/ and direct inquiries to Dave Matthews, Regional VP of Sales, EMEA.
About Wananchi
Wananchi Group is the only service provider offering a Triple Play service that includes broadband, multi-channel digital television and voice telephony.
Wananchi Group brand Zuku is present in five African countries namely Kenya, Uganda, Tanzania, Malawi and Zambia. The company is a major player across East and Southern Africa with investments of over (US$ 410 million).
Zuku is a home-grown East African brand established with the aim of making quality home entertainment and communication services accessible to a rapidly growing, choice-conscious middle class.
Zuku TV has over 150 channels on the Zuku Satellite platform which are developed to resonate with local audiences.
For further information kindly contact Susan Gikera on email susan.gikera@ke.wananchi.com
About Qwilt
Qwilt addresses the impact of OTT video on operator networks with a unified, turnkey solution that combines open caching, video delivery and analytics technologies deployed at the subscriber edge. The Qwilt Video Fabric optimizes delivery of streaming video content to relieve network traffic congestion for operators and deliver a higher quality viewing experience for their customers. A growing number of the world's leading cable, telecom and mobile service providers rely on Qwilt to optimize their networks to support growing consumer demand for online video content as a primary entertainment source. Qwilt is a founding member of the Streaming Video Alliance, a new industry forum building the open architecture for streaming. Founded in 2010 by industry veterans from Cisco and Juniper, Qwilt is backed by Accel Partners, Bessemer Venture Partners, Cisco Ventures, Disrupt-ive, Innovation Endeavors, Marker and Redpoint Ventures. Learn more at www.qwilt.com.
Connect with Qwilt
Read the blog: https://www.qwilt.com/blog/
Converse on Twitter: https://twitter.com/qwilt
Follow on LinkedIn: http://www.linkedin.com/company/qwilt
Visit on Facebook: https://www.facebook.com/Qwilt.Inc
Qwilt and QB-Series are trademarks of Qwilt. All rights reserved. All other trademarks or trade names referenced here are the property of their respective owners.
####
Press Contact
Qwilt Media Contact
Qwilt Media Relations
media@qwilt.com
+1 (650) 249-6521
Related resources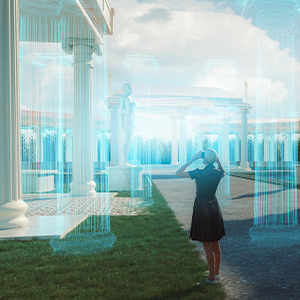 Blog
Bridging the many miles across immersive experiences
Event
Future of Video 2023
Blog
The CDN shake-up: What issues lie at the heart of a recent spate of acquisitions and exits?
Event
Capacity Europe 2023