Qwilt Names Greg Callanan Vice President of Sales of the Americas
Redwood Shores, CA – June 28, 2012 /PRNewswire/ — Qwilt announced today that it has appointed industry veteran Greg Callanan as Vice President, Americas Sales. Callanan brings more than 20 years of sales and business development experience, and a remarkable track record of successfully growing businesses through the development and execution of new business models, expanding distribution channels, and executing global go-to-market strategies. In his new role, Callanan will be responsible for driving growth across the Americas region as Qwilt continues to expand its global presence.
Qwilt's pioneering Universal Video Delivery solution is the only one in the industry to combine the four key1 video delivery functions – Classification, Monitoring, Storage, and Optimized Video Delivery – in a purpose-built, carrier-grade, integrated software platform designed to run on readily available commercial hardware. A growing number of the world's leading operators rely on Qwilt for the most precise video content detection, highest transparent caching performance, and unprecedented scalability and control needed to optimize video delivery in carrier networks. The solution combines all required video delivery functionality in a unified autonomous platform, enabling carriers to meet the growing online video bandwidth demand while maintaining an agile network infrastructure, achieve significant CAPEX and OPEX savings, and pursue new revenue-generating streams from online video delivery.
"We are experiencing a surge in the number of carriers who are actively looking to address the increasing challenges posed by online video," said Alon Maor, Qwilt CEO. "We perceive the Americas as our most strategic market and were looking for a leader that has the passion, skills and existing relationships to establish Qwilt as the preferred partner of choice for operators for addressing the influx of online video. Greg's leadership skills, track record and cultural fit make him the perfect sales leader who will help us take Qwilt to the next level.
"
Callanan most recently served as Vice President, North American Sales at BroadSoft, where he led the sales team of the fastest growing and largest segment within the company. Prior to BroadSoft, Greg served as Regional Director at Cisco Systems and as Cisco's Global Manager of the Service Provider Call Center Business, where he was responsible for expanding operations and building alliances with operators across the North American, Latin American and Asia/Pacific markets.
"Qwilt has achieved remarkable early success, and I couldn't be more thrilled to be joining a company whose leadership puts customer needs first and understands the significance in working closely with partners," said Callanan. "My goal is to further enhance sales opportunities throughout the Americas by building on existing programs to expand and strengthen relationships with our customers and partners."
Qwilt Uniquely Addresses Customer Challenges
Qwilt's QB-Series solves some of the toughest challenges in transparent caching and video delivery:
Carrier-Grade Performance without the Cost and Complexity: Qwilt's purpose-built, unified platform is engineered specifically for delivering large volumes of video traffic from the network edge, with at least 5x better performance and a smaller footprint than any video caching solution in the industry. The unified platform delivers dramatic CAPEX and OPEX savings to network operators by reducing the amount of OTT video traffic – without the cumbersome deployment and integration issues.
Integrated Video Network Intelligence: Qwilt's Online Video Classification Engine is a core component of its unified Universal Video Delivery platform. An integrated approach eliminates the need for costly and complex third party integrations and ensures that classification and delivery are performed seamlessly, without impacting the network or disrupting content provider business logic – all while delivering the highest possible quality of service to the subscriber.
Simple Deployment and Seamless Integration: Qwilt's QB-Series is a turnkey1 platform that is ready out-of-the-box for plug-and-play insertion into the most complex and demanding network environments. Unlike legacy inline solutions that introduce points of failure and latency into the network, the QB-Series is the only video delivery solution that features a true out-of-band deployment to eliminate the possibility of service outages and network downtime.
About Qwilt
Qwilt is pioneering a new class of video delivery and transparent caching infrastructure, designed from the ground up to help carriers identify, monitor, store and deliver high-quality, Internet video with a unified, cost-effective platform. Qwilt's solutions enable carriers to monetize Internet video delivery and let consumers see the online entertainment they want in the highest possible quality. The company, based in Redwood Shores, Calif., is founded and staffed by veterans from Cisco and Juniper and backed by leading investors including Accel Partners, Redpoint Ventures and CP Lantern. For more information, visit www.qwilt.com.
Qwilt Media Contact:
Dan Sahar
Vice President, Marketing
media@qwilt.com
+1-650-249-6523
Qwilt Media Contact
Qwilt Media Relations
media@qwilt.com
+1 (650) 249-6521
Related resources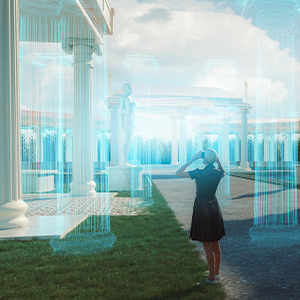 Blog
Bridging the many miles across immersive experiences
Event
Future of Video 2023
Blog
The CDN shake-up: What issues lie at the heart of a recent spate of acquisitions and exits?
Event
Capacity Europe 2023