Qwilt Raises $24 Million from Accel, Redpoint, Crescent Point for Pioneering Video Delivery System
Redwood Shores, CA, Oct. 20, 2011 (BUSINESS WIRE) – Qwilt Inc., a provider of pioneering video-infrastructure products that are enabling the online-entertainment revolution, has raised $24 million in two rounds of funding from Accel Partners, Redpoint Ventures, Crescent Point Group and other investors. The company, founded in 2010 by veterans of Cisco Systems and Juniper Networks, helps Internet-service providers more efficiently and cost-effectively deliver high-quality video to their customers—meaning more consumers can see video from sources like Netflix, YouTube and Amazon in the highest possible quality, when they want.
"So much of the buzz about Internet video today is on the consumer side, around the incredible growth of services like Netflix and Hulu, which are feeding shows and movies to users on PCs and smartphones," said Tom Dyal, a veteran networking investor and partner at Redpoint Ventures who is a member of Qwilt's board. "But few people are talking about the enormous strain all this new content is putting on Internet providers—the companies forced to carry all this video through their overburdened pipes." Redpoint partners were early investors in Netflix.
Also on Qwilt's board of directors are Yuval Shahar, former chief executive of networking company P-Cube (acquired by Cisco), who serves as Qwilt's chairman; Richard Wong, partner with Accel Partners, a backer of companies including Facebook, Riverbed and Infinera;Peter Wagner, an independent board member formerly of Accel; Ohad Finkelstein, partner with Crescent Point, a Singapore-based firm focused on investments in Asia that is a backer of Tudou.com, known as the YouTube of China; and Giora Yaron, a serial entrepreneur who was chairman of Mercury Interactive Corp. Also investing in the company is Rob Glaser, the founder and former CEO of digital-media company RealNetworks Inc.
Qwilt's products help ease the burden on carriers by providing technology that identifies, monitors, stores and delivers Internet video through one, cost-effective platform. The technology will also help carriers better monetize the video traffic they carry. Qwilt, which is headquartered in Silicon Valley and has sales offices in Europe, is now testing its products with five global carriers.
"The explosion of Internet video viewed through all types of Web-enabled devices, from smartphones to iPads, calls for new technology to help the consumer get the best possible viewing experience, and to help carriers and service providers optimize their networks for that," said Alon Maor, Qwilt's CEO. He co-founded the company with Yaron, Shahar and Dan Sahar, formerly with Juniper.
Maor continued: "The recent rise of bandwidth-usage caps shows how difficult and costly it is for carriers to deliver sophisticated video services today. Their networks are simply not architected for it. Qwilt offers a win-win-win solution for carriers, content providers and, most important, users." Video now represents about 40% of all Internet traffic, and is projected to quadruple by 2015, when video is expected to make up more than two-thirds of all online activity. Streaming videos from the Netflix service alone make up 30% of Internet traffic during peak evening hours today.
About Qwilt
Qwilt develops pioneering video technology that helps carriers identify, monitor, store and deliver high-quality, Internet video through one cost-effective platform. Qwilt's solutions enable carriers to better monetize Internet video and let consumers see the online entertainment they want in the highest possible quality. The company, based in Redwood Shores, Calif., is founded and staffed by veterans from Cisco and Juniper and backed by leading investors including Accel Partners and Redpoint Ventures. For more information, visit www.qwilt.com.
CONTACT: Rebecca Buckman The Buckman Group / for Qwilt becky@thebuckmangroup.com 650-703-0364
Qwilt Media Contact
Qwilt Media Relations
media@qwilt.com
+1 (650) 249-6521
Related resources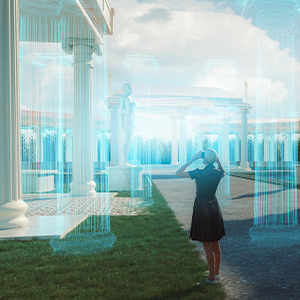 Blog
Bridging the many miles across immersive experiences
Event
Future of Video 2023
Blog
The CDN shake-up: What issues lie at the heart of a recent spate of acquisitions and exits?
Event
Capacity Europe 2023