Alon Maor on
5 min read
Seven Streaming Predictions for 2016
Skinny Bundles, Live NFL Games, Apps TV and Other Trends That Will Make This a Vintage Year
As published on Multichannel News

By now you've probably streamed enough to consider yourself a decent judge of what online video has to offer – you've faked being current with the latest episode of Homeland and then binged four seasons over one weekend so you could confidently walk into the office on Monday and pretend like you knew all along how last year's season finale cliffhanger ends. Perhaps you know how to get the best quality live stream when watching the NBA playoffs from the office.

Maybe you understand that Roku sometimes works better than Chromecast, or you can usually choose the best browser from which to stream or you have discovered by firsthand experience why "Smart TVs really aren't smart".


Very likely, you are pretty adept at knowing where to find a new show or, perhaps, a classic old show inside the vast content libraries of Netflix, Amazon Instant Video, Hulu, Crackle or HBO Now. And, yet, with all of this accumulated experience, you still shake your head from time to time and think it should be easier to stream.

As you reflect back on the year, it seems that streaming has become more complex and a bit more dangerous with the regular cadence of new devices, new packages and new service offerings. Without it being your intention, you realize you have active accounts with two different streaming services and you still have that nagging feeling that you're somehow missing out.

So, you wonder aloud how all of this will sort itself out. Have we finally reached a tipping point after which the complexity of streaming will melt away, leaving us just a couple clicks away from whatever we want to watch at any given moment in the day?

Well, you're not alone. Around the world, people are logged into their favorite streaming service and asking the same questions. What's next on the streaming horizon?
Looking ahead to 2016: Our perspective after one year and countless Petabytes of streaming

After watching the world stream for the last 12 months from the vantage point of open caching systems deployed in operator networks around the globe, we had a hard time restricting our list of predictions to just seven. The industry transformation, from broadcast to internet TV, which will impact every person on earth who watches a screen, continues like a force of nature, advancing with confidence and clarity, sometimes walking, sometimes sprinting, but always moving forward. Through it all, this transformation moves with a sense of inevitability toward a time, coming soon, when nearly everyone on the planet who watches their favorite show or live event, will be watching thanks to online video, streaming across the Internet to their screen.
Online video is entering a new era in which packaging, scale, quality and UI will make it easier and cheaper to stream. In fact, we see 2016 as a vintage year for streaming. A year that will be remembered as producing some of the best tasting content, packages, devices and services. Here's a look at what to expect in the coming year. Seven predictions for Streaming in 2016:
1. The year of the skinny bundle, or "Skinny Love"

It's common knowledge that most current TV bundles offer far more channels than the consumer needs or wants. This "bundle inflation" has been ongoing for years. U.S. homes, on average, receive 189 cable TV channels and only watch 17.5 of them. Further, the increase in price of the cable TV subscription has outpaced inflation by a factor of 4x from 1995 to 20131. So, it's no surprise that the streaming industry has focused in on the notion of a thin or skinny bundle as the key to unlock mass adoption of streaming as an alternative to traditional cable.
Dish Network may have been one of the first to really get it right with their skinny bundle offering through Sling TV. However, it seems only 500,000 or so consumers have signed up which some in the industry have interpreted as evidence that the Sling's offering is not on a trajectory for success. So, it's possible that Sling's greatest contribution may have been to signal the rest of the industry to this clever packaging of streaming content.
In December, Amazon announced its service bundle which includes Showtime, Starz, A+E Network, AMC, Ring TV Boxing and more. In the short run, the Amazon announcement was really about providing users with a way to manage multiple streaming subscriptions through a single billing and distribution interface. But, in the coming year, we predict Amazon will offer more creative and integrated packaging along with discounts for a bundled purchase.
In an effort to create a more appealing bundle of streaming content, we predict many more service providers will announce and launch their version of a skinny bundle. This has become the latest packaging tactic adopted by the streaming industry as a means to appeal to future "cord-cutters" and current "cord-nevers." These skinny bundles will come from service providers like Verizon and from content distributors like Amazon, Hulu and Sling.
Taken together, these skinny bundles, some of which will win big and some of which will fade fast, signal a tipping point in the growth of the streaming market. Those who get it right – like Amazon and Apple – stand to grow quickly and, by doing so, take market share and become significant counterweights to Netflix in the market.
2. New wave of unexpected direct-to-consumer streaming, or "The Great Unbundling Continues"

Every content owner will walk through their archives and consider how to unleash the value of their content library through a direct to consumer streaming offering. As a review, we already have direct to consumer streaming offerings from big broadcast brands like ABC, CBS, Fox, HBO, NBC, Showtime, Sony and Univision. These are predictable offerings which came in response to the "Great Unbundling" of content in which the content brands saw the Internet as a path to independence from the cable bundle models that had reigned for decades.
Along with the expected direct to consumer service offerings from the big content brands, get ready for more of the unexpected. A great example – "Seeso" – the $3.99/month subscription service from NBC.
Why watch? Because Seeso includes 40 years of SNL. But wait, there is more – The Tonight Show Starring Jimmy Fallon, Late Night with Seth Meyers, Parks and Recreation, 30 Rock as well as both the U.K. and U.S. versions of The Office.
The packaging in Seeso is a great example of the new freedom and creativity that content providers have to appeal to a narrow audience with a unique package of content. Content providers can go to market quickly, test packaging and pricing easily and refine or reconfigure their service offering because they have a more efficient and flexible distribution model through Internet TV.
In 2016, we also predict ESPN, who has experimented with OTT offerings through its partnership with Sling TV, will continue to expand its streaming services. ESPN's foray into OTT, through small steps, may be the most important signal yet as to the industry's long term expectations for streaming. ESPN has been the one holdout from an "all-in" OTT strategy given live sports appears to be the last remaining element that secures the cable subscription. Once ESPN embraces OTT in a major way, many consumers may decide they have no good reason left to keep paying their cable bill.
3. The NFL embraces streaming as a strategic medium, or "'Thursday Night Football' on Yahoo"

The NFL and Yahoo together established a remarkable milestone this year – the first regular season NFL game that was available only via live streaming from Yahoo outside of the two local markets, Jacksonville and Buffalo.
While this game was arguably low stakes – played at Wembley outside of London at 9:30am ET on Sunday – it was nevertheless a successful bet for both NFL and Yahoo who each had something important to prove as they collaborated on streaming the game with remarkable scale and reach. Both the NFL and Yahoo could claim a win for this event as the audience reach, ad inventory sales, quality of streaming and flawless overall execution has proven, once again, that Internet TV can achieve comparable user experience and, in many ways, exceed the reach and engagement of traditional television.
The NFL has just announced to TV networks that it is ready to accept bids for Thursday Night Football. The notice reportedly went to the usual suspects – CBS, ESPN, Fox, NBC and Turner. But the NFL has signaled a new era by also sending bid notices to Google, Yahoo, Apple and Amazon. The details as to the model and expected collaboration remain to be seen.
It's possible that the NFL will award streaming rights on a non-exclusive basis to a digital partner like Apple in addition to the traditional broadcast rights it will award to network TV. Bidding is expected to start around $300M for the entire Thursday Night Football package. Most in the industry believe Yahoo paid about $15M for the exclusive rights to stream a single game this year. So, we predict Web companies will compete fiercely for NFL streaming rights in 2016. So much to look forward to in the coming year.
We predict Yahoo or Apple will enter into a collaboration with one of the traditional networks for the streaming rights to Thursday Night Football that would serve two purposes – attract a global audience that might not have access to traditional cable TV game broadcasts and expand the U.S. audience to include those who want to watch through a different screen. In either case, the streaming of these events will expand reach and increase engagement through social media which can be more easily and deeply integrated into the streaming experience.
4. Apple will launch its TV Bundle, or "The Future of TV Is Apps"

Late this year, Apple put its TV offering on pause claiming it could not get the right pricing from the networks with whom Apple was negotiating to establish its version of the skinny bundle. This will all come together by the summer of 2016 when we predict Apple will announce and launch its streaming TV offerings. Apple will continue to promote its service by saying: "The future of TV is apps." (Author's note: This is a universal truth by the way, and, at the same time, a very convenient way for Apple to play to its strength.)
On the day of this announcement in the summer of 2016, Netflix stock will drop by at least 10% as another market truth – "the landscape of streaming providers will be many and no one provider will dominate" – prompts a correction to the high-flying Netflix market capitalization.
In the coming year, expect Apple to be a force for good – negotiating more favorable rates for content, improving the TV UI, reinventing the TV remote (it's about time) – with both the streaming industry and consumers benefiting from Apple's entry and benevolent disruption of ecosystem economics and streaming user experience.
5. Amazon and streaming devices, or "Alexa Voice-Controls Fire TV Devices"
We love Fire TV and we love Alexa. So, we predict Amazon will finally deliver the much rumored and perfect mashup early in 2016 – Alexa on all Fire TV devices. We've seen all the rumors about the source code hidden in the Fire TV OS 5 developer preview. Let's do this. "Alexa, I want to binge watch every episode of Homeland right after you finish making me popcorn in the microwave."
6. Amazon and original content, or "Emmys for Amazon"

Amazon has already proven its ability to deliver brilliant original content with Transparent. We predict Amazon will win at least 2 more Emmys in 2016 with its new programming. High on our list are Hand of God, Mozart in the Jungle, The Man in High Castle and Mad Dogs. Great new programming to keep us binging through the night.
7. Even more streaming newcomers will pronounce themselves the "Netflix of _______"

In the wake of the remarkable success of Netflix, we predict more and more companies will define their business plan by saying they are the "Netflix of (blank)." Let's take a quick look at a few who describe themselves (or have been described) this way already.
–Eros, "The Netflix of India," the number one producer of local films in India, seems to already be three to five years ahead of Netflix in that part of the world. Eros releases 70 movies a year and is responsible for about 40% of India's box office revenues. In a country where local content is king, Eros appears to already be wearing the "Netflix" mantle.
–Meet iROKOtv, "The Netflix of Africa" that's based in Nigeria and offers a subscription service across Africa with access to 5,000 titles. Most subscribers are actually in the U.K. and U.S. because broadband Internet speeds in Africa are not yet able to sustain streaming services yet. iROKOtv is investing in its own local content as well with TV shows produced in Nigeria and throughout Africa.
–Letv, "The Netflix of China," which actually launched its streaming service years ahead of Netflix, produces its own TV series and movies. Incredibly, Letv also sells smart TVs and set-top boxes.
–Enter iflix, "The Netflix of Asia," whose focus on mobile video and base in Malaysia gives them a unique perspective on how to service the Southeast Asian market for streaming. The reach of iflix includes Malaysia, Korea, Japan, Indonesia, the Philippines and China.
We predict more service providers will declare themselves to be the Netflix of (the market or region they intend to dominate) in 2016. Who would not want to tap into the halo effect that such a comparison offers?
Sources: http://transition.fcc.gov/Daily_Releases/Daily_Business/2014/db0516/DA-14-672A1.pdf
Ready to take the next step?
We have a team of content delivery experts ready to answer your questions.

Related resources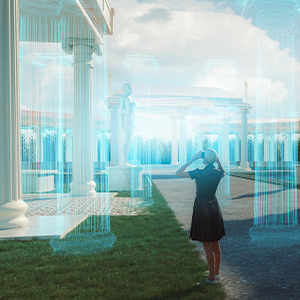 Blog
Bridging the many miles across immersive experiences
Event
Future of Video 2023
Blog
The CDN shake-up: What issues lie at the heart of a recent spate of acquisitions and exits?
Event
Capacity Europe 2023