5 min read
SportsPro OTT Summit Preview: Upgrading the Broadcast Experience
We all know sports fans today expect more than the 'one-to-many' linear broadcast experience typical of past decades. From the Premier League's plans to introduce real-time graphics and data into its broadcasts on Sky Sports and BT Sports, to FIFA's newly announced FIFA+ digital fan experience for the World Cup Qatar, fans today have access to more personalized and interactive feeds than ever before. Content publishers now have ample opportunity to elevate their live streaming offerings and build deeper connections with their fanbases.
The focus on creating a compelling live sports experience that can further entice, engage, and excite sports fans is all well and good. But the additional network capacity and infrastructure needed to deliver the huge amount of data via streaming, along with accompanying extreme peaks in streaming traffic, requires careful consideration as well. The good news is that content publishers can increase fan engagement with second-screen experiences by leveraging edge computing in service provider networks. Qwilt is delivering advanced live streaming use cases with edge computing, and I'll discuss this topic at length on a panel session at next week's SportsPro OTT Summit in Madrid (November 29 – December 1).
New Opportunities Through Edge Computing
So how does edge computing for live video streaming work? In short, it allows cloud computing functions to take place at the point where content is created. It means content publishers can run their streaming services at scale with all the processing power and storage capacity needed to carry out any task. By locating this capability as close to the content source as possible, the live workflows are dramatically reduced, streaming latency is minimized, and new standardized protocols can be deployed at a faster rate than ever before possible.
For sports broadcasters and content publishers, this edge computing capacity enables innovative new use cases in live sports content beyond standard content delivery. This innovation can include new formats in ultra-low streaming latency, whereby the live feed has under one second of latency. Additionally, new embedded features can be added, such as advanced player statistics, rewind and instant replay capabilities, and aggregated betting tools within the live feed on second screens.
We've already seen major content owners leverage edge capacity in service provider networks to deliver these types of next-generation streaming experiences. For example, the Finals of Riot Games' 2019 League of Legends World Championships utilized multiple Terabits per second (Tbps) of edge capacity through local ISPs to connect its own Riot Direct ISP service for the last mile at the closest ingest point. The 2019 FIVB Volleyball Men's World Cup also leveraged edge computing to support low latency streaming to tens of thousands of simultaneous viewers, working with Videon EdgeCaster and AWS.
Ushering the Future Sports Fan Experience
When enabled by edge computing, enhanced live sports streaming represents a significant improvement on the traditional 'lean back' broadcast experience. Gone are the days when fans' only option was to  watch the linear feed. With edge computing and containerized capacity at the edge of service provider networks, content publishers have an exciting opportunity to elevate their live sports broadcasts and usher in next-generation interactive and immersive live sports streaming experiences.
If you're attending the SportsPro OTT Summit next week in Madrid (November 29 – December 1), I encourage you to attend my panel session, 'Upgrading the Broadcast Experience', where I'll be onstage alongside ATP Media's Carolina Minhoto Santos, Edgio's Van Balasundaram, and the SVTA's Jason Thibeault. Find out more details and register for the session here.
Please contact me via LinkedIn if you would like to arrange a meeting during the show.
Global Content Provider Live Streaming Survey
What does it take to live stream in broadcast quality? Learn what 300 content publishers said in our latest survey.
Related resources
Event
SportsPro Live 2023
Event
SportsPro OTT USA 2023
News
It's all about the CDN, stupid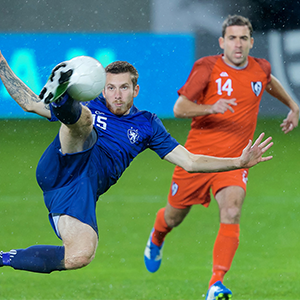 Blog
A 10 Million Viewer, 90-Minute, Global Streaming Event – What Would You Do?