Gleb Brichko on
5 min read
Anatomy of a Viral Video
In today's hyper-connected world, popular digital content transcends the cultural and language differences of the world's netizens, sweeping across the globe in a matter of days – sometimes hours.
A touching and inspiring video produced by our friends at TRUE Thailand became an instant internet sensation, amassing over 13 million views in 14 days on YouTube:
Not all videos are created equal and there is hardly a way to predict which video will win the lottery and propel to internet stardom – over 100 hours of content is uploaded every minute to YouTube alone, but only a few truly make the cut to become viral.
For those exceptional ones that do go viral, the profile of consumption or half-life is strikingly similar – virtually every popular video follows the distribution pattern like the clip from TRUE:

Source: YouTube
This activity is in line with the analytics collected from Qwilt QB-Series nodes distributed in operator networks worldwide. Requests for the video begin showing up in small numbers almost immediately after the release, slowly picking up momentum until viewership exploded into millions less than a week following the first post and after being featured in numerous media outlets and shared across social networks. Here are the summary views reports from select deployments by region:
| | | |
| --- | --- | --- |
| | | |
| US 1 | US 2 | LATAM |
| | | |
| South Asia | North Asia | |
The QB-Series nodes cached the TRUE video the day it was released in most locations, and began delivering it locally from within operators networks to viewers. The next six days made up the bulk of the views, with Qwilt's caches delivering over 95% of the volume in some networks:
By delivering the video from close proximity to subscribers, Qwilt's operator customers ensure that their subscribers are enjoying the best possible online video viewing experiencing – and saving big on their network costs in the process.
At Qwilt, our mission is to optimize this viral propagation process by bringing popular video content to subscribers without pesky delays or buffering and in the highest possible quality – the way it was meant to be viewed, in spite of worldwide propagation , slow transit links, or congested network conditions.
By now, TRUE's viral video has entered the twilight of its life with views tapering off almost completely by the end of September. As its viewership declined, it has been cleared from the QB-Series caches – we have to make room for all those #starbucksdrakehands videos.
Ready to take the next step?
We have a team of content delivery experts ready to answer your questions.

Related resources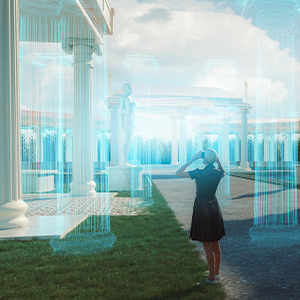 Blog
Bridging the many miles across immersive experiences
Event
Future of Video 2023
Blog
The CDN shake-up: What issues lie at the heart of a recent spate of acquisitions and exits?
Event
Capacity Europe 2023